.
On 5 Jul 2017, Spain's National Police had
an anti-terror drill.
Anti-terror drills are normally held before 'the authorities' carry out false flag attacks.
Drills were carried out before, or at the same time as, the attacks of 9/11, the London Bombings, the Madrid Bombings, the Oklahoma City Bombings, the Norway Oslo Attacks, Sandy Hook, the Batman Shooting and the Boston Bombing.


BARCELONA FALSE FLAG - PART 1
BARCELONA FALSE FLAG - PART 2
.
BARCELONA FALSE FLAG - PART 3
.
JULIAN CADMAN PHOTOS - FAMILY AND FRIENDS
.
Jordi Pujol, Catalan leader for 23 years.
Barcelona is in Catalonia, which is dominated by Israel and Mossad.
The Catalan Government buys anti-riot and security materials from Israeli companies.
The Catalan Government employs the Israeli security company 'Hancal System Engineering' for assessment in questions of security and control in prisons.
Police and military collaboration with Israel
.
Carles Puigdemont, left, president of the autonomous region of Catalonia and former mayor of Girona, thanks Jewish Russian Billionaire Shimon Aminov
.
CATALONIA THE NEWEST JEWISH STATE

.
The Catalan Government supports the 'Guardian Homeland Security' company, which trains military and police bodies in questions of security in training camps in occupied Palestine and which uses the logo of the Mossos d'Esquadra, the Catalan police force, to publicise its services.
Police and military collaboration with Israel
.
Barcelona football team visiting Israel.
No Israelis were listed among the Barcelona attack's victims.
Barcelona attack
The Catalan Government authorises companies to import and export military material to Israel (torpedoes, ammunition and diverse armaments), for example Tyco electronics or Indra, with central offices in Barcelona.
The Catalan Government allows private Israeli companies of the ICTS security mega-group to interrogate travellers in the El Prat airport in Barcelona.
Police and military collaboration with Israel
.
Former Catalan leader Artur Mas.
At the start of Summer 2017, almost a thousand Jewish students began a visit to Catalonia to tour the areas of Jewish history in Barcelona. A THOUSAND MAINLY RUSSIAN JEWISH STUDENTS
The Mossos are the police force in Barcelona and the surrounding area of Catalonia.

The Mossos has been linked to Mossad.
Julian Cadman, reportedly killed in Barcelona on 17 August 2017. Note the skulls.
In Spain,
José Manuel Rodriguez Delgado
carried out experiments in mind control.
CIA
MIND CONTROL
makes use of Satanic themes.
Mohamed Houli Chemlal, who was hurt in the blast in Alcanar.
On 22 August 2017, Mohamed Houli Chemlal appeared in court.
"
The court official
said Mohamed Houli Chemlal answered questions, but the official
gave no details of what the suspect said in court."
dailymail

.
"Mohamed Houli Chemlal admitted in court that a bigger attack was planned, say judicial sources."
Barcelona attack: Suspect says bigger attack was planned
.
The official is not authorized to speak about ongoing cases under court rules.
dailymail
Brit DJ claims he was beaten and tortured by Spanish police
Can we trust the Spanish police?
Mohamed Houli Chemlal arrived at court with a bandaged hand and cuts to his face and bare ankles.
Barcelona
The Spanish police are linked to torture.
A Decade Of Brutality: Spain Police Raped, Tortured 6,600 People
. /
Spanish police sanctioned for torture
'were promoted'
/
Madrid 2004
The Spanish police are said to have helped to carry out the Madrid Bombings.
Police linked to Madrid bombs
/
The police and the Madrid Bombs
Julian Cadman
Trump needs acts of terrorism, to justify his military actions.
Prior to being elected, Trump promised to withdraw the troops from Afghanistan.
On 21 August 2017, Donald Trump said that he is to send more troops to Afghanistan.
Trump wants to hold on to the Afghan trade in heroin?
Trump wants to continue to train terrorists in Afghanistan?
Julian Cadman
Trump will have less money to help the people of the USA.
16 August 2017 explosion at Alcanar 'drugs factory' - linked to Moroccans.
The Barcelona Attack has links to the drugs trade.
On 16 August 2017, an explosion destroyed a house in
Alcanar
, near Barcelona.
Initially, the police linked the explosion to the trade in narcotics.
Abdelbaki Es Satty was among those reportedly killed in the Alcanar explosion
Abdelbaki Es Satty is alleged to have known the people of Moroccan origin who allegedly carried out the attacks in Barcelona on 17 August 2017.
Es Satty was once jailed for smuggling hashish.
Es Satty, accused of master-minding the Barcelona terrorist attacks should have been deported at the end of his prison sentence for drug smuggling, but he was not deported.
Barcelona
Andrew Cadman and family know a large number of Filipinos.
Barcelona has a very large community of Filipinos and many of them head to the
Raval
district near Las Ramblas to get their Methamphetamine, better known as crystal meth or ice.
Robert, a Filipino cook in Barcelona, believes that 60% of Filipinos he knows have taken crystal meth.
Barcelona has become crystal meth's gateway to Europe, says Catalonia's police force.
Methamphetamine and the Filipino community
Barcelona is also a centre for the trade in cocaine, which comes in from Colombia, Mexico and the the Americas.
Spain
Sydney has its drugs problem

-

drug boss Dung Thi Ngo charged with murders of ice cook
.
Younes, who died twice, on 17 August and on 21 August 2017. He escaped into a restaurant surrounded by police, and then he didn't. He has a convex nose and he has a concave nose?
The Spanish authorites said that
Younes
Abouyaaqoub died on 17 August 2017, but then they changed the script.
Younes Abouyaaqou
b
On 19 August, the Spanish police declared that 'they are searching for
Younes
Abouyaaqoub in connection with the attack in Barcelona on 17 August 2017.'
Then on 21 August 2017, the police said that
Younes had been shot dead on 21 August 2017.
Younes Abouyaaqoub's brother El Houssaine and first cousins Mohamed and Omar Hychami
were killed by police in Cambrils.
Above is the man claimed to be the van driver.
The western security services recruit assets in North African countries. They look for young lads who can be tempted by alcohol, money and sex.
Younes Abouyaaqoub, and his brother and two cousins, are originally from the small Moroccan town of Mrirt.
Relatives in Mrirt last saw Younes and Mohamed in March 2017.

"I saw Younes and Mohamed on motorcycles," said a female cousin.
She said
Mohamed frequented nightclubs and drank alcohol.
Fatima Abouyaaqoub, an aunt, believes it is possible Younes and the others were influenced by
Abdelbaki Es Satty
, an imam in the Spanish town of Ripoll.
dailymail
Es Satty was once jailed for smuggling hashish.
While in prison for drug smuggling, Es Satty met Rachid Aglif who had a history of committing robberies.
Rachid Aglif had allegedly been in contact with people allegedly linked to the 204 Madrid Bombs.
"The security services organised the Madrid bombs"
"Es Satty has links with the 2004 Madrid bombers" and recently travelled to (a CIA-recruiting ground in) Belgium.
Imam at centre of Spain terror cell had links with Madrid bombers
PARIS TERRORISTS 'WORKED FOR THE SECURITY SERVICES. .
The alleged Paris 'terrorist' Salah Abdeslam (above) frequented Brussel's gay bars where staff thought he was a 'rent boy'.
He flirted with men and took drugs.
Sunday Times
.
After the Paris attack, Salah Abdeslam was stopped and let go by police, 3 times.
Paris attacker Salah Abdeslam was
driven through a police checkpoint
into Belgium on the night of the November 2015 massacres, while Berlin attacker
Anis Amri managed to reach Italy
before being shot dead by police.
Anis Amri
Anis Amri was driven to Berlin by an undercover informant of the German Intelligence Service - the BfV.
On 17 August 2017, Julian Cadman and his mother, Jumarie Cadman (Jom Cadman), were on
Las Ramblas
in Barcelona when the Barcelona attack took place.
Jom (Jumarie) was brought into a nearby pharmacy by a police officer,
News Corp Australia
reported.
"Las Ramblas pharmacist Fouad Bakkali tried to comfort Jom Cadman."
(Left) Spain's Queen Letizia visited this child victim of the Barcelona attack. (Right) Julian Cadman.
Julian Cadman was reported as missing after the attack in Barcelona, on 17 August 2017.
On 19 August 2017, the media reported that Julian Cadman was not in a mortuary but was alive and well in a hospital.
Then they changed the script.
.
Harry Athwal (left)
On 17 August 2017, Harry Athwal, from Birmingham, was holidaying in Barcelona.
Ignoring police warnings to clear the area, Harry went to the assistance of the the young boy shown above.
metro.
Harry told the
Mirror
: 'He was unconscious, his leg was bent the wrong way, there was blood coming out of his head, I knew it was more than blood.'
H. Athwal (left); Harry Athwal in Barcelona (right)
There is an H. Athwal linked to
a murdered man
.
Harry Athwal in Barcelona (above) looks like H Athwal?
Dad of British boy, 7.
Above, we see Julian's father, Andrew Cadman, accompanying a young lady.
Above we see Mark O'Connor on Andrew Cadman's Facebook page.
The Cadmans have police and military connections.
A worried looking Julian Cadman and his mum, Jom.
Nathaniel Paul
Above we see Spain's queen visiting a boy in a Barcelona hospital
Above we see the boy's mother.
The Kosher Nostra terrorists are reputed to be involved in running child abuse rings.
Above we see a photo taken after the attack in Barcelona.
Sky News reported that the attackers, including the driver of the white van, were entrenched in a restaurant.
Why did the police not apprehend the attackers in the restaurant?
.
In the town of Cambrils, near Barcelona, the police shot dead five drugged 'patsies'.
Cambrils would appear to be a base for the CIA and its friends.
Mohammed Atta visited Cambrils, in July 2001.
9/11 pilot met al Qaeda plotter in Cambrils
The Mohamed Atta in the USA spoke Hebrew and liked lap dancers and pork chops.
Mohamed Atta - Welcome to Terrorland.
/
Atta was working for the US military
/
.

Pupils from London's Jewish JFS school were in Barcelona on 17 August 2017 when the van attack took place.

17-year-old JFS pupil Rebecca Herman says that 'a chance meeting' meant she was not walking on Las Ramblas at the time of the terror attack.

Rebecca Herman and seven friends were due to dine at the Maccabi kosher restaurant near which the attack began.
She said: "We meant to go but we were delayed.
We met an Israeli event promoter on the beach. He kept talking
to us so we were running late."
JFS pupils avoided Barcelona attack
Secret history of western false flags

.
Rabbi Meir Bar-Hen, Barcelona's chief rabbi, told Channel 2 news in a telephone interview that he was informed by police that the terror attack was not directed at Jews.
13 killed, dozens wounded in car-ramming terror attack in Barcelona
A Chabad representative told The Jerusalem Post that the Chabad institute is located close to the scene of the attack.
Spain hunts van driver

.
On 19 August 2017, it was reported that the Spanish police suspect that Moroccan born
Younes
Abouyaaqoub, 22, was the driver of the white van that carried out the attack in Barcelona.
However, there is a belief that the Barcelona attack was an Operation Gladio type of attack, carried out by the security services.
OPERATION GLADIO
.
There is a belief that the real attackers were allowed to escape into the Barcelona restaurant, the Luna d'Istanbul.
There is a belief that Younes is a 'patsy'.
The leader of the Welsh nationalists believes that 'right-wing' forces may be behind the Barcelona attack.
Barcelona police, after the attack of 17 August 2017.
The police have now dismissed earlier
reports of the Barcelona attackers taking hostages in a Turkish restaurant
.
It is possible that the police are protecting the attackers?
Police linked to Madrid bombs
ISIS has claimed responsibility for the Barcelona attack.
ISIS is reported to be run by the CIA and Mossad?
America created ISIS - Global Research
.
'Driss Oukabir Soprano'
Driss Oukabir, whose passport was allegedly found in the white van, handed himself in to the police.
It has emerged that, like most well-known 'patsies', 'he had been under police surveillance'.
A report in the Guardian
says that Driss Oukabir was arrested
after he went to the police to report that his passport had been stolen.
The Guardian says that Driss Oukabir was not the driver of the van.
Mossad has a history of stealing passports.
Mossad's long history of clandestine operations
.

Moussa Oukabir (right) and a friend.
The authorities were trying to make out that 17-year-old Moussa Oukabir was driving the white van.
It is claimed that Moussa Oukabir, 17, was one of five men killed by police after the attack in Cambrils.
T
he Moroccan-born Younes Abouyaaqoub is now named by Spanish media as the suspected driver.
Fake Facebook accounts were set up to discredit Driss Oukabir and his brother Moussa.
The URL of a fake Facebook page contained the name 'Ayman.Arifi' instead of Driss Oukabir Soprano.
The real Driss' Facebook page was shut down.
Driss El Oukabir Soprano Facebook Photos
Cambrils.
The police say that in Cambrils, a town south of Barcelona, they killed five alleged attackers at around 1.30am on 18 August 2017.
One of those who witnessed the chaos in Barcelona was
Chris Pawley
who had also been at Manchester Arena during the recent terror attack there.
Convicted drug dealer
.
Manchester Arena bomb survivor caught up in Barcelona terror attack
Morocco, where the CIA apparently recruits its 'patsies'.
The CIA warned local police that
La Rambla
, in Barcelona, could be the scene of a terrorist attack.
dailymail.
On 17 August 2017, a white van, reportedly rented, rammed into pedestrians
outside a kosher restaurant
on a busy street in Barcelona.
Kosher restaurants suggest Mossad?
At least 13 people were killed in what police described as a terrorist attack.
After the attack in Barcelona.
"The driver went on the run, and two other men ran into a nearby Turkish restaurant,
the Luna d'Istanbul,
armed with guns, according to local media.
"The two armed men entrenched themselves in the Turkish restaurant in Barcelona's city centre, and took hostages."
After the attack several armed people enter restaurant
.
Barcelona white van.
The spooky lawyer and University of Glasgow rector Aamer Anwar was walking La Ramblas when he heard screaming.
Spain is a base for the families of Mossad spies who operate in North Africa and beyond.
Barcelona is a nest of spies.
Barcelona, nido de espías - La Vanguardia
Israel has reasons to dislike Spain.
Israel-Spain relations
.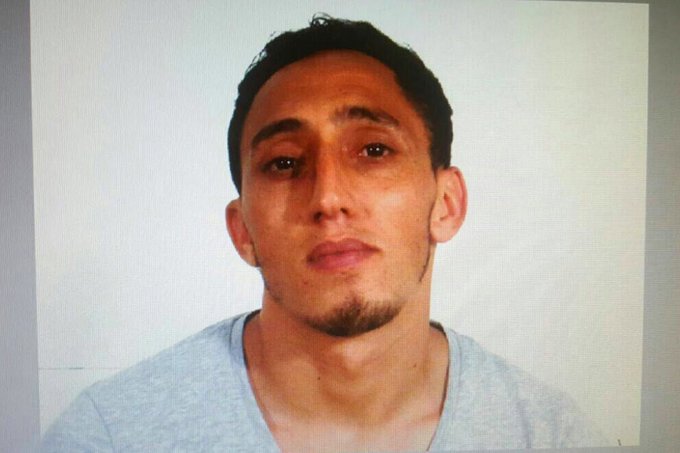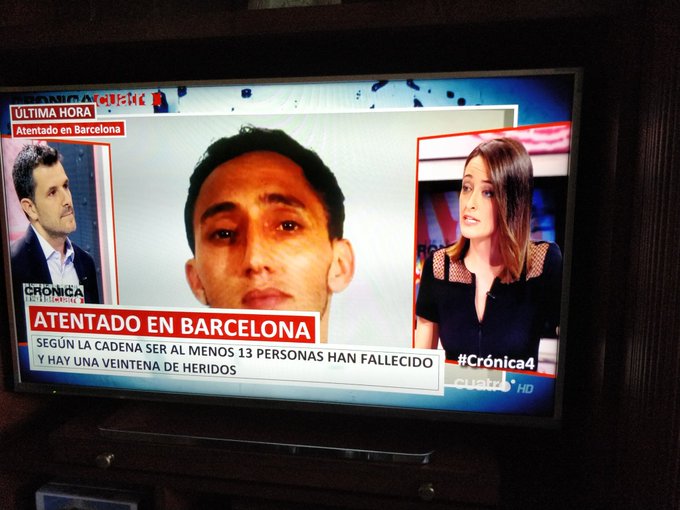 One Mossad-CIA trademark is leaving a fake passport at the scene of their crime.
The police are said to have found a passport in the white van.
The passport belongs to a Spanish national with an Arabic name (Driss Oukabir).
Theresa may refused to back Netanyahu on Iran, and she sacked the top Jews from her cabinet.
When the Kosher Nostra fell out with Theresa May, there were false flag attacks in Manchester and London.
In
CHARLOTTESVILLE there was a KOSHER NOSTRA PSY-OP
.
Barcelona football team visiting Israel.
.
The King of Spain and a rabbi.
Spain has a history of false flag terrorism.
The 1977 Atocha massacre, which was a part of
neofascist terrorism in Spain
, killed five people.
This massacre, linked to the CIA's Operation Gladio, was committed in Atocha Street near the Atocha railway station in Madrid.
Madrid 2004
Madrid Bombs - the work of the security services
THE NATO LINK TO THE MADRID BOMBINGS
OF 2004
Madrid Bombs
Rafa Zuher and Jose Emilio Suarez were involved in the Madrid bomb plot, according to the authorities. Spain's El Mundo newspaper said ...
Police linked to Madrid bombs?
The newspaper had published details suggesting the involvement of the security forces in the Madrid bomb blasts. The police are alleged to ...
Madrid Bombs
Police linked to Madrid bombs?
The police and the Madrid Bombs
According to Múgica, at a Madrid police station "the officers wanted to help the ABC reporters, but when the camera crew came, they didn't ...
Security services organised the Madrid bombs?
A headline in the Times, June 21 2004: 'Madrid Bombers Linked to Spanish Security Service.' "The man accused of supplying the dynamite ...
MI5 SPY; PEDOPHILE SPY
Morocco - recruiting ground for the CIA and MI5. MI5 had a Moroccan-born agent who 'investigated' the 7/7 London bombers and the Madrid ...
TRAINING EXERCISE ON SAME DAY AS ...
A few hours before the Madrid Bombings, NATO carried out a terrorism exercise in Madrid. (Translate this page) Former Secretary General of ...
CHARLOTTESVILLE
KOSHER NOSTRA PSY-OP
.